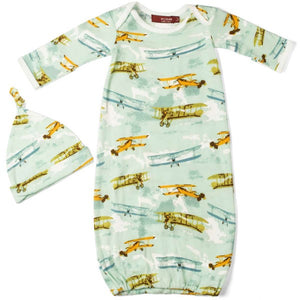 Fly high, little one, for once you soar above the clouds, your wondrous heart remains forever linked to the heavens.





With old-world, biplane illustrations in a retro color palette of mossy greens, muted marigold yellows, and raindrop blues, Milkbarn's Vintage Planes print awakens the little aviator in all of us. Go ahead, dream of taking flight—endless possibilities await!

We consider the baby crib a "home within a home," a sacred environment for our little ones when not cradled in our arms. What better way to personalize this space and subtly enhance the nursery than with our Muslin Gown designed with Milkbarn's most beloved Duck prints.
The extra soft, lightweight, and breathable weave of the Duck Gown Muslin provides year-round comfort.